---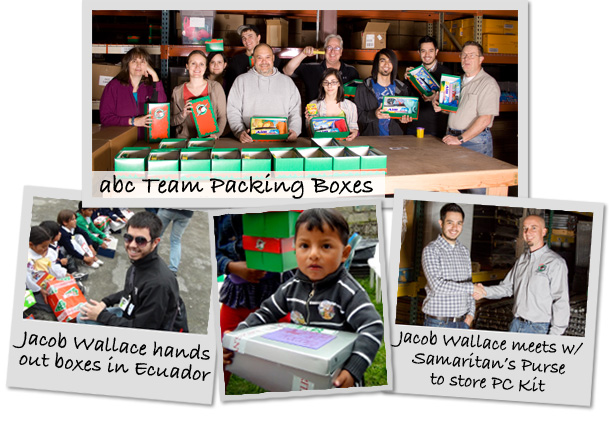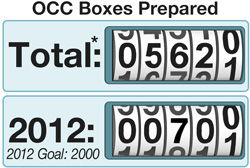 Samaritan's Purse is one of the largest relief organizations in the world. Often on the ground before government teams or film crews, they've responded to disasters in Japan, Haiti, America, and many more. One of their largest projects is Operation Christmas Child (OCC). OCC gives individuals and small organizations the ability to make a positive impact in the world. Anyone can get involved! Simply pack a shoe box with toys, toiletries, candy, and the like, and drop it off at your nearest location. From there, each box is inspected at a regional center, and then distributed into over 100 countries. Children in extremely poor areas receive the gifts. For some, it is the first gift they've ever received.
Every year, abc packs shoe boxes year-round. In February 2012, abc VP Jacob Wallace traveled to Ecuador to help distribute the boxes. He can tell you first hand that even a simple gift makes all the difference in the world! This year, we are storing the regional Processing Center (PC Kit) for OCC. When OCC finishes for the year in December, they usually have to ship the PC Kit back to HQ in North Carolina. However, this year we donated 1200 square feet of our warehouse to hold the Denver PC kit. This saves Samaritan's Purse thousands in shipping and storage fees.
When you purchase products at abc, know that we believe in making the world a better place. Your purchases help us achieve that goal. Without your loyal support, none of this would be possible!
*Total is an estimate of number of shoe-boxes packed since 2004. Though updated frequently, it may not include some of the most recent boxes packed
---
Other Charities That abc Supports: