Description
AL's Rubber 18" Gross
Professional Quality Rubber
Don't let the price fool you, this is a quality molded rubber. The reviews are two thumbs up! Al's is comparable to the leading brands at a fraction of the cost.
Rubber is the most important part of a squeegee because it is what actually comes into contact with the glass. Al's rubber is a soft rubber, molded one at time from strips. Designed to fit most standard squeegees including brass, stainless steel, and aluminum.
Al's rubber is "Rounded".
Rounded rubber will not fit channels designed for "T-Shaped"
Not for use with Sorbo Squeegees.

---
Buy 1 Gross for Free Freight in CUSA
FedEx Regular Ground within the Continental United States
abc led our industry by first introducing a free freight offer over 10 years ago.
Any size - even if we have a published sale! Or can take advantage of the 6+ Price and we will still pay the freight.
- and abc will pay the freight on anything we can put in the same box.
Free freight for FedEx ground service ONLY within the Continental United States.
Does not include oversized or packages weighing more than 50 pounds.
abc Window Cleaning Supply, Inc. reserves the right to withdraw this offer at any time, for any reason.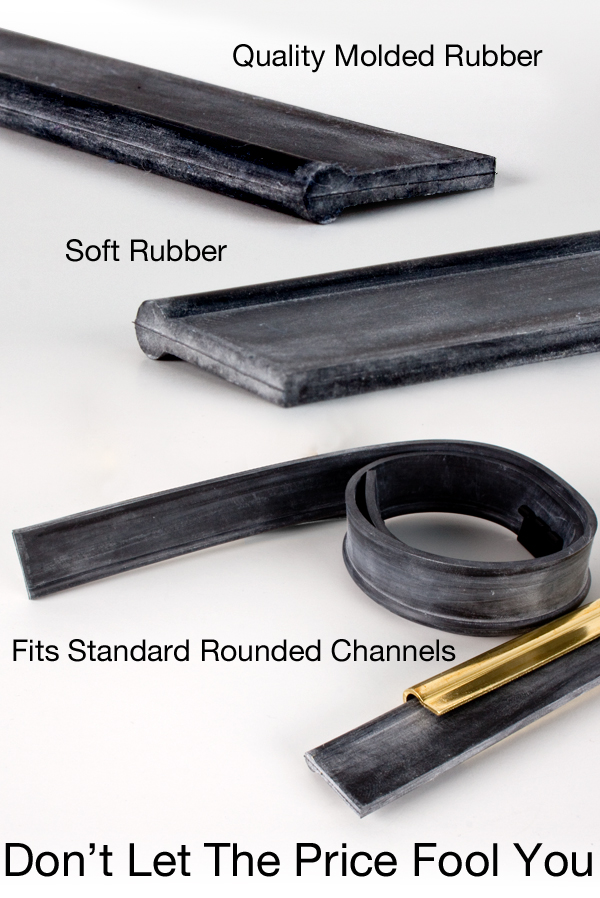 ---
Customer Reviews
5 out of 5 stars
Based on 2 reviews
Good rubber, great value
I used to buy 3 Star rubber, and now I only buy Al's. The price is much lower, and the quality is just as good.
Good rubber
Al's rubber is as good as any on the market and at very reasonble prices.
Add a Review
Account
Log in
New Customer
Create an account with us and you'll be able to:
Check out faster
Save multiple shipping addresses
Access your order history
Track new orders
Create Account
Forgot Password
Forgot Password
Fill in your email below to request a new password. An email will be sent to the address below containing a link to verify your email address.