Buy 6 or above and pay only $44.20 each
18' Garelick 3 Part Pole
SKU: 94118-3
Why are Garelick poles for window cleaning our number one selling brand of pole? Garelick poles have no external collars so they easily slide through your hands without catching. Internal locking features lets sections open and close faster, which saves time and reduces the fatigue of locking and unlocking external collars (be sure not to over-tighten). The pole reaches from 2 feet to 24 feet. As a result, this 18' pole can reach most 2 story windows and some 3 story windows. Garelick window cleaning poles come with an acme threaded tip. The poles work with most acme threaded tools. It comes with a free threaded wooded tip allowing the poles to work with most tapered tools. Garelick as a company has been around for over 65 years and prides itself on the quality and durability of their poles. Considering the popularity of their poles for window cleaning, most professional window cleaners would agree.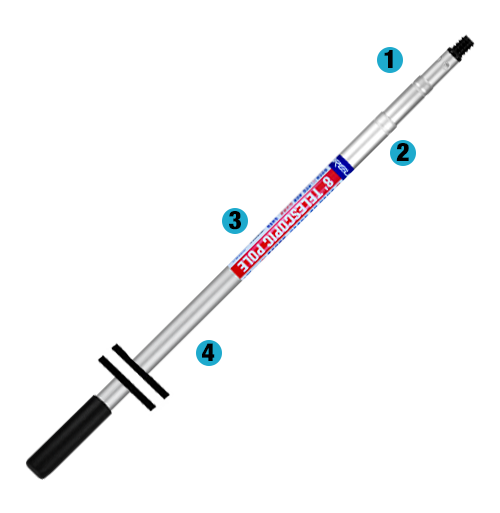 Acme threaded tip/ also comes with one acme threaded tapered wooden cone

Internally locking collars

3 Sections

18' Extended - 79" Collapsed - 2.4lbs
Replacement Parts
Accessories
TWC - Threaded Wood Cone Tip
TCTC - Threaded Plastic Cone Tip
2 Reviews
super light and fast
Already cant leave home without it. Easy to use, fairly rigid, el super fasto
As close as you can get to perfect
Lightweight, easy to use (don't over tighten) and reasonably priced, Garelick poles are almost the perfect pole for window cleaning, high dusting, painting and many other high reach tasks. My cleaners love them.
Add a Review