$1,600.00 - $1,950.00
$1,495.00 - $1,795.00
Triple Crown Modular WaterFed® Pole
$1,600.00 - $1,950.00
$1,495.00 - $1,795.00
SKU: 5000-M-H-[x]
It's Back! The abc Modular WaterFed® Pole is back!
Introducing the all new Modular pole by Triple Crown. This is our lightest and most rigid pole. Pole includes:
Triple Crown Modular WaterFed Pole
Double Jet Brush
Pole Tubing with Quick Connect
Plastic Angle Adapter
Shut Off Valve
Carrying Case
Can of PTFE Spray
Rubber Bottom Section Plug
*Colors may very slightly from photos
| Height | Weight* | Material | Unextended Length | Bottom Diameter | Pole Tubing Length | Additional Pole Sections | # of Sections | Stiffness** |
| --- | --- | --- | --- | --- | --- | --- | --- | --- |
| 33.7' | 3.25 lbs | High Mod Carbon Fiber | n/a | 1.31 inches | 53' | Additional Section | 6 | 9/10 |
| 55.7' | 5.52 lbs | High Mod Carbon Fiber | n/a | 1.55 inches | 75' | Additional Section | 10 | 9/10 |
*Weight is of the pole without brush, tubing, or other accessories.
** Stiffness is a subjective measure for comparing our poles to each other.
Key Features:
100% Hi Modolus Carbon Fiber composition
All Sections are numbered for easy assembly
Pull-n-Twist to remove sections
Add or Drop sections in seconds
Use with External tubing
Stronger lateral sidewall
Helpful Resources:
| | |
| --- | --- |
| Modular Pole Video Guide | Modular Pole Written Guide |
About The Modular Pole:

Modular Design
The sections of this pole fit together in a modular fashion (as opposed to telescopic). This allows the worker to carry around only the sections needed at the time, further reducing weight. Sections are numbered for easy assembly.

Free Carrying Case
All abc Modular poles come with a free carrying case for easy, safe and reliable storage.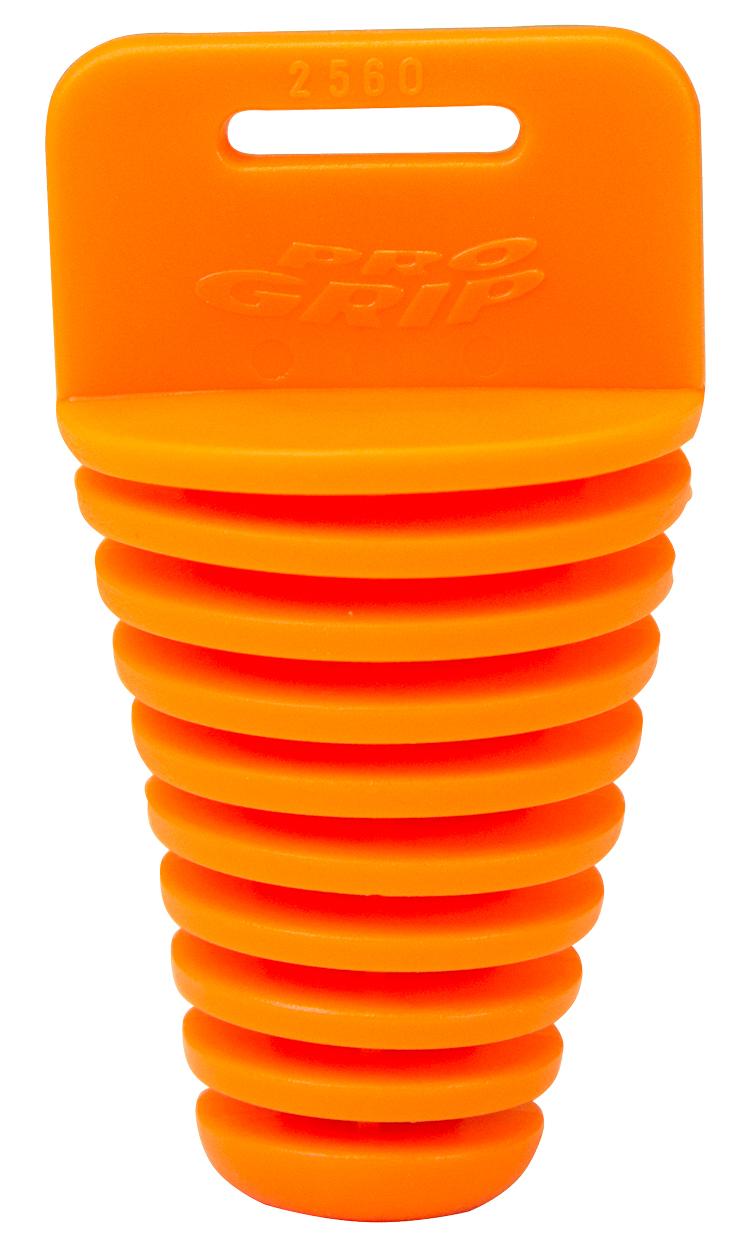 Rubber End Section Plug
This rubber plug comes with every Triple Crown Modular Pole. It is plugged into the bottom section of the pole to protect the open section from bending.

Looking for Replacement Parts or Modular accesories?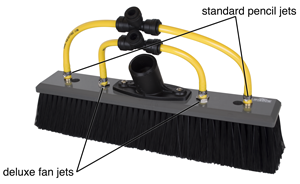 Pole come with a 12" rectangular double-trim brush
with standard pencil jets AND deluxe fan jets pre installed.
Block Dimensions: 3/4" x 2-1/2" x 10-1/2"
Bristle Dimensions: 1-3/4" x 3" x 11"
Total Brush Weight: 1.05 lbs. (476g)


Hose Fittings
Pole come with the fittings you need to hook up your pole to a pure water cart. Both the quick-connect hose fitting and the quick-connect shut-off valve are included. The shut-off valve connects to any standard male garden-hose fitting.

Replacement and Additional Sections for This Pole:
3 Reviews
I would not have been able to complete my job without this awesome pole.
I would not have been able to complete my job without this awesome pole. The sheer quality of stiffness seemed uncanny. I purchased extra pole lengths to complete the job it was used for without the need for a lift. The poles nearly fused together on every use, and fully required someone to hold each section with both hands and braced while another person of "equal" strength to rotate and pull each section apart. The mold release is a must, but overall they virtually fuse together on every use. My wife and I cannot separate them ourselves, and it requires another "strong" individual to break them loose. Sometimes I have to hold the sections so hard that I can actually feel the tube buckling. I just had to repurchase section 3 because of this. The smaller sections fuse the hardest. I did notice that the entire length of the pole changes after a little use. Each section digs a little deeper with each use, and after about an hour, my pole starts to loose inches in total length; which becomes the new total length. My 55 foot pole assembles closer to 53 foot now after about 150 windows.
Love it
The only thing is, the pieces are hard to get apart even with the spray
Add a Review