Buy 12 or above and pay only $11.95 each
Squeegee Handle - Ettore - Clip Style - Super System - Pivoting Quick Release
SKU: 1640
Ettore Super System Clip Style Quick Release Swivel Squeegee Handle
This handle is for Standard channels and has an angled head.
Order the Correct "Super System Pro+" Handle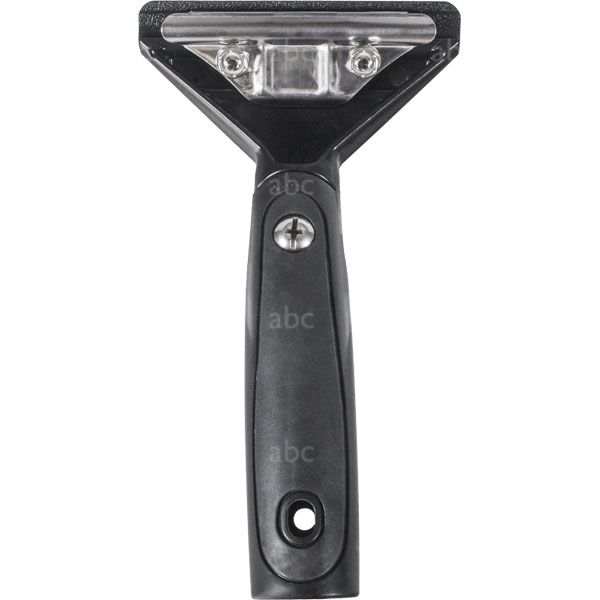 Ettore names numerous handles "Super System" and they all pivot and have the quick release feature but each handle is designed for a different type of channel.
Caution ... The handles 1640 & 13851 both look the same from the front.
It is easy to order the wrong handle. It would be nice if each handle was a different color but you can still tell the difference by looking at the lengths of the screws.
The new 1640 (pictured above) has a stainless steel back plate designed to clamp onto the metal part of the channel and does not come in contact with the rubber. The screws are the correct length for holding most brass channels and Ettore stainless steel channels.
The 13851 handle has longer screws and is designed for wide body channels like the Ettore Super channel and the Sorbo "Quick Silver" or "Black Mamba" channels. The back plate is stainless steel and shaped a little different than the brass back plates designed for brass channels.
The 1640 has replaced the previous handle 1348.
The 1640 is design to work together with the new style Reach Pole and hold tools in place while reaching higher windows.
Be careful to order the correct handle
Features and Specs
Material: Plastic
Style: Clip
Type: Quick Release
Body: Standard
Angle: Swivel
2 Reviews
Great for high rise!
I love this handle! It's perfect for pole work on a rope.
nice handle, wish the release flap was stronger
I gave it 3 stars because release flap tends to break and then the handle is useless, nice handle, feels solid in your hand, bug the flap problem needs to be addressed.
Add a Review