Usually ships within one business day
Usually ships within one business day
In-Stock - Options from 10' to 60'
Usually ships within one business day
In-Stock - Options from 10' to 60'
Usually ships within one business day
Description
Triple Crown Phaser WaterFed® Pure Water Cleaning System
The Triple Crown Phaser WaterFed® Cart is the only multi-stage filtration system that weighs less than the average bag of window cleaner supplies. At only 28lbs, the system can be transported and used almost anywhere. This unit is ideal for those without access to power. The Phaser cart has no need for a power outlet, it runs on the pressure coming out of the tap.
This RO DI WaterFed® System produces 1.053 gallons of purified water per minute. This is a standard amount for a multi-stage filtration system that does not use a pump. The cost of a gallon of purified water is $0.016. The cost is kept low because of the multi-filtration system. When filters can rely on other filters to assist in the purification of water, the result is longer lasting filters.
This WFP System is an optimal solution for window cleaning professionals entering into pure water window cleaning. It has the low-cost upkeep of a multi-stage filtration system but also has a low initial cost. While this system is ideal for one person, and for frequent use cleaning 1-3 stories without needing a pump, adding a pump will allow you to work higher and faster. Triple Crown systems are top quality and sold manufacturer direct, saving you money! abc stocks and supports all parts.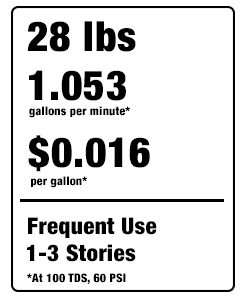 60"L x 8"W x 7"D - 28lbs

4 Stage Multi-Filter System.

Easiest To Operate Multi-Stage System Available.

All Parts Stocked And Supported By abc!
Filters
WF2CSC-6

-- (1) - Carbon/Sediment Filter Cartridge

WF2CRO-40

-- (1) - 40 inch RO Filter Cartridge

WF2CDI-6

-- (1) - DI Filter Cartridge
Resources
Replacement Parts
Optional Upgrades
Included With Purchase
Phaser System With Filters

TDS Meter

Shutoff Valve

B

ypass Hose

Owner's Manual
Customer Reviews
4 out of 5 stars
Based on 32 reviews
1 year of use review
Here's an honest 1 year of use review: No pump, used with a Tucker 40 foot hybrid pole. Pro's - 1 - Price. It's very affordable to get into. If you end up liking waterfed or expand your hoses fittings and poles are still usable for future carts/systems. 2 - Portability. Easily fits in the back of a van or a truck bed. If you want to make it ultra portable, you can use metal band clamps and attach it to a furniture dolly. I did that and can now roll it around properties easier. 3 - Ease of use. From a complete newbie standpoint it is hard to mess up. Con's - 1 - Stock flow rate. Without a pump your rinse can take quite a while for higher stories. 2 - Durability. It feels fairly fragile. With the $800 price point I think it's a fair trade but you certainly need to be aware of it. Conclusion: I wish I bought it sooner. Anything I can't reach with my 20 foot ultra-light extension ladder gets poled. If you bid by the pane you will look forward to homes inundated with french panes. I live and serve a mountain ski down with a lot of cliff or heavily sloped yards and the ease of pole verse ladders is a time saver, leading to much higher profits. The phaser IS usable higher than 3 stories but without a pump it's slow going. I have set up wood and plywood on the top of my trucks ladder rack as make-shift scaffolding and had my 40 foot pole fully extended for an observation room on the top of a home. While the scrub and rinse took a while, it was still quicker than a 40 foot+ ladder or doing rope work and was easily completed solo. My technique was pretty bad to start and was having to re-do a lot of windows but as I've watched tutorial videos and had more on hand experience with it they come out great. I wish I could add a photo to this review, one of my favorite homes I do completely with the Phaser is a 1,000+ paned monster. Would have taken 2+ days trad, with the pole it was a 6 hour job. Easy 5 stars from me.
Great Compact Unit
Used my new Phazer for the first time today. Was impresses with the good volume of output on a 3 story building without a booster pump. With a pump, I'm sure you could run two poles with a little tweaking of the volume between them. Compared to my cart units it's light weight, compact, and would fit in a small hatchback in a pinch if needed. Waiting to see how long the Di filter lasts, but already considering purchasing another one.
Good for starters but brass fittings poor
This unit is excellent for a newbe or a cleaner on a shoestring budget but for commercial use its not up to par. As long as no filter changes are needed, no issues but removing the filter often results in the brass fitting coming undone. Once that happens you will need a wrench to separate brass fittings. Glue will no longer be in place but unit still works. It lasted 2 seasons before the RO was worn out. Still a good buy for money.
Greg Thomas
29th Sep 2020
Can easily break!
Be careful. We have had this product around 2 years and just had to replace the filters. One of my workers accidentally overtightened the replacement filter by hand and now it is a $1000 piece of junk. Up until this point we were very happy with this system.
Nathan Carpenter
6th Jul 2020
Mobility
Phaser is a great, compact system for any window cleaner looking to clean windows quickly and efficiently.
With workers using them, they get bumped and scraped. I think the price of them keeps them the economical choice. A more expensive system just wouldn't be wish
Super easy to fit in various vehicles and just get consistently high quality work done. We've tried other systems, we love this one!
Jeremy van Gelder
6th Jul 2020
The cost verse most other available units. It's everything I need it to be, for at LEAST a thousand less than anything else out there.
I use the phaser for high windows and small French panes. It's ease of use helps me maintain my goal hourly margins!
Improves our efficiency.
We like the portability of the Phaser. My cleaners find it very easy to use
its portability
So far so good!!
The fact that I can return it for a 20% restocking fee
It was terrible. Product sold needed another product to function and it is way too difficult to live around.
Add a Review
Account
Log in
New Customer
Create an account with us and you'll be able to:
Check out faster
Save multiple shipping addresses
Access your order history
Track new orders
Create Account
Forgot Password
Forgot Password
Fill in your email below to request a new password. An email will be sent to the address below containing a link to verify your email address.