Triple Crown Phaser WaterFed® Pure Water Cleaning System
SKU: TS2200
Triple Crown Phaser WaterFed® Pure Water Cleaning System
The Triple Crown Phaser WaterFed® Cart is the only multi-stage filtration system that weighs less than the average bag of window cleaning supplies. At only 28lbs, the system can be transported and used almost anywhere. This unit is ideal for those without access to power. The Phaser cart has no need for a power outlet, it runs on the pressure coming out of the tap.
This RO DI WaterFed® System produces 1.053 gallons of purified water per minute. This is a standard amount for a multi-stage filtration system that does not use a pump. The cost of a gallon of purified water is $0.016. The cost is kept low because of the multi-filtration system. When filters can rely on other filters to assist in the purification of water, the result is longer lasting filters.
This WFP System is an optimal solution for window cleaning professionals entering into pure water window cleaning. It has the low-cost upkeep of a multi-stage filtration system but also has a low initial cost. While this system is ideal for one person, and for frequent use cleaning 1-3 stories without needing a pump, adding a pump will allow you to work higher and faster. Triple Crown systems are top quality and sold manufacturer direct, saving you money! abc stocks and supports all parts.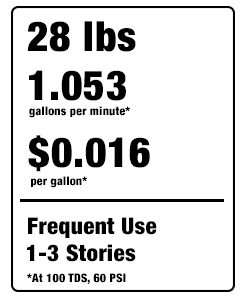 60"L x 8"W x 7"D - 28lbs

4 Stage Multi-Filter System.

Easiest To Operate Multi-Stage System Available.

All Parts Stocked And Supported By abc!
Filters
WF2CSC-6

-- (1) - Carbon/Sediment Filter Cartridge

WF2CRO-40

-- (1) - 40 inch RO Filter Cartridge

WF2CDI-6

-- (1) - DI Filter Cartridge
Resources
Replacement Parts
Optional Upgrades
Included With Purchase
Phaser System With Filters

TDS Meter

Shutoff Valve

B

ypass Hose

Owner's Manual
28 Reviews
Mobility
Phaser is a great, compact system for any window cleaner looking to clean windows quickly and efficiently.
With workers using them, they get bumped and scraped. I think the price of them keeps them the economical choice. A more expensive system just wouldn't be wish
Super easy to fit in various vehicles and just get consistently high quality work done. We've tried other systems, we love this one!
Add a Review