Usually ships within one business day
Usually ships within one business day
In-Stock - Options from 10' to 60'
Usually ships within one business day
In-Stock - Options from 10' to 60'
Usually ships within one business day
Description
Triple Crown Solo WaterFed® Pure Water Cleaning System
NEVER CHANGE FILTERS AGAIN. Worried or unsure as to when a system needs to have its filter's changed? The Triple Crown Solo WaterFed® System is the solution. With RO pre-filters designed to last the life of the membrane, never change a filter again! At 18lbs, The Solo is the lightest multi-stage pure water system on the market, and just as light as some DI only systems. This makes it powerful and easy to transport. The Solo has the smallest footprint available for a WaterFed® system.
The system produces 1.2 gallons of purified water per minute! It is one of the highest production unpowered systems available, and this is without the use of a pump. The cost of a gallon of purified water is $0.099. This is the first multi-stage system operating at less than 1 cent per gallon!
This WFP system is the easiest multi-stage system ever created to operate. There is no setup, no pressure gauge, no pump, no valves or switches, and no filters to change. With a pre-set bypass flow for ease of use, all that's required is to turn the water on and go!
This RO DI WaterFed® System is an optimal solution for window cleaning professionals entering into pure water window cleaning. This system is ideal for one person, and for frequent use cleaning 1-3 stories, or up to 6 stories with a pump. Triple Crown systems are top quality and sold manufacturer direct, saving you money! abc stocks and supports all parts.
The Solo is designed for low TDS areas (200 or less) since RO will remove approximately 95% of the TDS and get you to the required 10 or less to do pure water cleaning. In an area where the TDS is over 200 or if you are getting results higher than 10, no big deal, just hook up a DI filter. The Photon WaterFed® Cart is a great choice! Minimum 60 psi required for optimal performance. Consider adding a booster pump in areas with poor pressure.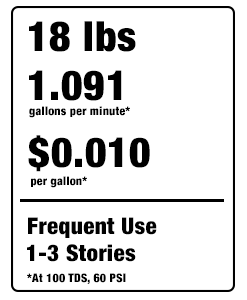 50"L x 8"W x 8"D - 18lbs

Multi-Stage System.

Highest Production Multi-Stage System. 1.2 Gallons Per Minute!




All Parts Stocked And Supported By abc!
Filters
The Solo Does Not Require New Filters
Resources
Replacement Parts
Optional Upgrades
Included With Purchase
Solo System

TDS Meter

Shutoff Valve

B

ypass Hose

Owner's Manual
Customer Reviews
5 out of 5 stars
Based on 2 reviews
Paul T (Verified Customer)
3rd Oct 2018
Made it easier
I've used this system between 5 and 30 times. I found the quick start and resources helpful. Overall, this system has made my business easier.
Dan B (Verified Customer)
10th Aug 2018
Increased safety and speed
I've used the system more than 30 times. I've shown how to use this system to others and it was easy. I found the quickstart guide and resource videos helpful. The real test of the this system will be longevity. I cut off the carry handle because the system would often do a nose dive. The handle could never be centered right.
Add a Review
Account
Log in
New Customer
Create an account with us and you'll be able to:
Check out faster
Save multiple shipping addresses
Access your order history
Track new orders
Create Account
Forgot Password
Forgot Password
Fill in your email below to request a new password. An email will be sent to the address below containing a link to verify your email address.