In-Stock - Options from 25' to 60'
Usually ships within one business day
In-Stock - Options from 25' to 60'
Usually ships within one business day
Usually ships within one business day
In-Stock - Options from 25' to 60'
Usually ships within one business day
Usually ships within one business day
In-Stock - Options from 25' to 60'
Usually ships within one business day
Description
Triple Crown Voyager WaterFed® Pure Water Cleaning System
The Triple Crown Voyager WaterFed® Cart is a perfect option for window cleaning professionals looking for a long-lasting, easily portable pure water system. Weighing 40lbs, the Voyager is compact and relatively lightweight, making this product great for frequent use.
The Voyager system produces 0.968 gallons of purified water per minute. This is a standard amount for a multi-stage filtration system that does not use a pump. The cost of a gallon of purified water is $0.019. The cost is kept low because of the multi-filtration system. When filters can rely on other filters to assist in the purification of water, the result is longer lasting filters. Easy replacement cartridges snap in and out for quick changes.
This WFP System is light, compact and designed for easy use. While this system is ideal for one person, and for frequent use for cleaning 1-3 stories without needing a pump, adding a pump will allow you to work higher and faster. Triple Crown systems are top quality and sold manufacturer direct, saving you money! abc stocks and supports all parts.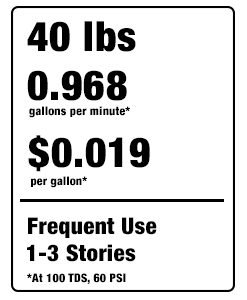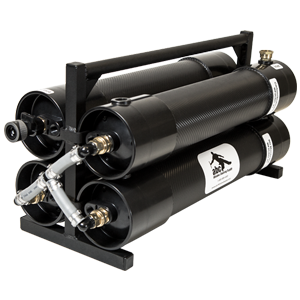 15"H x 11.5"W x 29"D - 40lbs

4 Stage Multi-Filter System.

Easy Change, Low-Cost Filter Cartridges

.

All Parts Stocked And Supported By abc!
Filters
WF2CSC-21

-- (1) - 21-inch Carbon/Sediment Filter Cartridge

WF2CRO-21

-- (2) - 21-inch RO Filter Cartridge

WF2CDI-21

-- (1) - 21-inch DI Filter Cartridge
Resources
Replacement Parts
Optional Upgrades
Included With Purchase
Voyager System With Filters

TDS Meter

Shutoff Valve

B

ypass Hose

Owner's Manual
Customer Reviews
5 out of 5 stars
Based on 3 reviews
Shine Window Cleaning - Fort Myers
8th Aug 2023
Voyager
We currently have 2 voyagers in our arsenal & couldn't be happier. We've tried other products out there but have found the most success with the Voyager. Highly recommend.
Brandon Banks
7th Aug 2023
Voyager is a High Volume filter
We love using the voyager system! Best bang for the buck, or shall I say, the most filtered water at the lowest cost rate. We use A LOT of water these days so using this system at our shop to pre-filter water going into the truck tanks not only saves us time, but money too. This system is a little heavy, so we don't take it to job sites, but you definitely could. Just get some extra hose line so you don't have to move it around as much. Does a fantastic job at getting us to 000 TDS, while still providing great pressure working at 3 stories.
NEEDS A PUMP
The system itself is great, a bit leaky but Im working on adjusting fittings and wrapping teflon tape on threads. The BIG issue is even though the pump is "optional" when using a multi stage system the water has to travel through four filters and just does not give good pressure to the head for rinsing. The fan jets do not fan even just running the 50 feet of standard line that comes with the pole only. It got a two story commercial building done, barely. Spot free rinse for sure but it took forever to rinse because there was not enough pressure. You will NEED the pump if you are going to use a multi stage system and want a quick rinse.
Add a Review
Account
Log in
New Customer
Create an account with us and you'll be able to:
Check out faster
Save multiple shipping addresses
Access your order history
Track new orders
Create Account
Forgot Password
Forgot Password
Fill in your email below to request a new password. An email will be sent to the address below containing a link to verify your email address.