In-Stock - Options from 25' to 60'
Usually ships within one business day
In-Stock - Options from 25' to 60'
Usually ships within one business day
Usually ships within one business day
Usually ship within 1 business day
In-Stock - Options from 25' to 60'
Usually ships within one business day
Usually ships within one business day
In-Stock - Options from 25' to 60'
Usually ships within one business day
Description
Triple Crown NXT5 WaterFed® Pure Water Cleaning System
The Triple Crown NXT 5.0 WaterFed® Cart is for the professional window cleaner. Weighing 116lbs., the system is a 4 stage multi-filter system that produces 2.308 gallons of purified water per minute. The number of gallons produced reflects its need to work its way through the multi-filter system. The cost of a gallon of purified water is $0.019. The cost is kept low because of the multi-filtration system. When filters can rely on other filters to assist in the purification of water, the result is longer lasting filters.
This WFP System comes with a 100 foot 1/4-inch diameter hose with reel and a booster pump integrated into the system pushing over 2 gallons of purified water to the brush, allowing you to reach greater heights with more water. It is best for frequent use cleaning 1-6 stories. It is equipped with a durable powder coated steel frame with 10-inch run flat tires making it very portable. The larger wheels and wide stance allows it to be easily transported over a variety of landscaping materials. The NXT 5.0 is the complete NXT Cart. The NXT series of pure water cleaning carts are designed to allow the professional window cleaner to choose the version that best fits their needs. If those needs change, simply upgrade. Triple Crown systems are top quality and sold manufacturer direct, saving you money! abc stocks and supports all parts.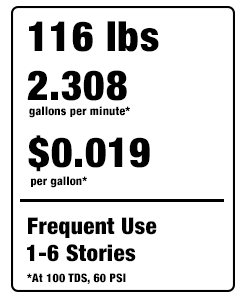 38"H x 16"W x 17"D - 116lbs

4 Stage Multi-Filter System

Boost Pump. 100' Hose Reel.

All Parts Stocked And Supported By abc!
Filters
WF2CDI-21

-- (1) - 21-inch DI Filter Cartridge
WF2CSC-21 -- (1) - 21-inch Carbon/Sediment Filter Cartridge
WF2CRO-21 -- (2) - 21-inch RO Filter Cartridge
Resources
Replacement Parts
WF601311 -- Shut-off Valve

HMTDS-3 -- TDS Meter

WF65000-WH -- Wheels
WF7000-RF -- Replacement Feet

TA-NXT-OUTELBOW -- Outlet Elbow (Please Call)

TA-NXT-INELBOW -- Inlet Elbow (Please Call)
Included With Purchase
NXT5 System With Filters

Pump

Hose Reel

TDS Meter

Shutoff Valve

Bypass Tubing

Owner's Manual
Customer Reviews
4 out of 5 stars
Based on 3 reviews
Michael D (Verified Customer)
18th Oct 2018
Very useful
I found the quick start guide and manual helpful. This improved efficiency by at least 50%. My system was used 9 times and the TDS is already at 3, shouldn't it take longer to wear out?
Good unit.
I have less than 10 hours use of the machine but the purchase and shipping went smoothly. The freight charge seems a little steep as I often buy larger heavy machines that don't cost nearly as much to ship freight to me. Set-up is easy with the step by step instructions. The cart is a little awkward with the high center of gravity but the wheels pull fairly easily. On initial start up my TDS was around 300 and this unit took it down to 3. As far as filter life and easy of changing I don't know yet but based on the research I did before purchasing it is about what I would suspect. Also with a PSI of 50 it barely pushes water through the pole on a 1 story home. The pump is basically required 100% of the time to get sufficient water to wash a window.
Don H - Verified Customer
24th May 2016
Works great after getting all the bugs fixed.
Used more than 5 times so far. First WaterFed unit. abc's Customer service is 5 stars. The quickstart guide, manual, and videos were very helpful. Machine leaked from bad washer on arrival. Works great after getting all the bugs fixed.
Add a Review
Account
Log in
New Customer
Create an account with us and you'll be able to:
Check out faster
Save multiple shipping addresses
Access your order history
Track new orders
Create Account
Forgot Password
Forgot Password
Fill in your email below to request a new password. An email will be sent to the address below containing a link to verify your email address.