In-Stock - Options from 10' to 60'
In-Stock - Options from 10' to 60'
Usually ships within one business day
In-Stock - Options from 10' to 60'
Usually ships within one business day
Description
Triple Crown NXT1 WaterFed® Pure Water Cleaning System
The Triple Crown NXT 1.0 WaterFed® Cart is the lightest and simplest NXT model. Weighing 46lbs., the system takes advantage of dual DI filters working together to produces 3 gallons of purified water per minute. The cost of a gallon of purified water is $0.306. This cost reflects how often your filters will need to be changed based on the number of gallons produced. The filter system for the NXT 1.0 is DI only, allowing it to work quickly to deliver pure water. As a result, there is a higher cost per gallon than multi-stage.
This WFP System is equipped with a durable powder coated steel frame with 10-inch run flat tires making it very portable. It is easily transferred into and out of a work van by one person. The larger wheels and wide stance allows it to be easily transported over a variety of landscaping materials. It is best for periodic use cleaning 1-3 stories without needing a pump, or for areas with very low TDS. The NXT 1.0 is easy to upgrade. The NXT series of pure water cleaning carts are designed to allow the professional window cleaner to choose the version that best fits their needs. If those needs change, simply upgrade. Triple Crown systems are top quality and sold manufacturer direct, saving you money! abc stocks and supports all parts.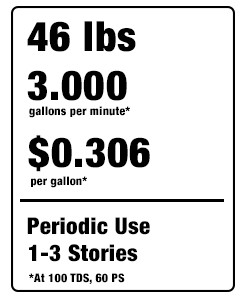 38"H x 16"W x 17"D - 46lbs

Dual DI System.

Easy Change, Low-Cost Filter Cartridges

.

All Parts Stocked And Supported By abc!
Filters
WF2CDI-21

-- (2) - 21-inch DI Filter Cartridge
Resources
Replacement Parts
WF601311 -- Shut-off Valve

HMTDS-3 -- TDS Meter

WF65000-WH -- Wheels
WF7000-RF -- Replacement Feet

TA-NXT-OUTELBOW -- Outlet Elbow (Please Call)

TA-NXT-INELBOW -- Inlet Elbow (Please Call)
Optional Upgrades
Included With Purchase
NXT1 System With Filters

TDS Meter

Shutoff Valve

Owner's Manual
Customer Reviews
4 out of 5 stars
Based on 1 reviews
Vannak P - Verified Customer
24th May 2016
I really like the NXT 1
Used more than 5 times so far. First WaterFed unit. abc's Customer service is 4 starts. The quickstart guide was helpful but could have been more thorough. Increased speed on jobs. I really like the NXT 1.
Add a Review
Account
Log in
New Customer
Create an account with us and you'll be able to:
Check out faster
Save multiple shipping addresses
Access your order history
Track new orders
Create Account
Forgot Password
Forgot Password
Fill in your email below to request a new password. An email will be sent to the address below containing a link to verify your email address.