Triple Crown SG2 WaterFed® Pure Water Cleaning System
SKU: TSSG-2
Triple Crown SG2 WaterFed® Pure Water Cleaning System
The Triple Crown SG2 WaterFed® Cart provides excellent pure water production and is easily maneuverable in close quarters. This AC powered unit produces 2.500 gallons of pure water per minute.
This RO DI WaterFed® System was designed to operate with a range of source water conditions. The core of its filtration is a replaceable RO membrane. The membrane allows the unit to process higher than average TDS and contributes to a low cost per gallon for pure water production. The DI filter can be bypassed for RO only operation in situations where water quality is high enough to produce water with less than 10 TDS. The RO only operation allows those cleaning solid surfaces to produce water with 40 TDS or less from source water without using a DI filter. The unit also features a rapid drain which allows the user to reduce the overall weight of the unit when lifting into their vehicle at the end of the day.
This WFP System is equipped with a durable powder coated steel frame with 10-inch run flat tires making it very portable. It is easily transferred into and out of a work van by one person. The larger wheels and wide stance allows it to be easily transported over a variety of landscaping materials. The unit comes equipped with an AC powered pump capable of producing up to 2.500 gallons per minute of pure water, but can be run without a pump with sufficient source water pressure. Perfect for frequent use cleaning 1-6 stories. Triple Crown systems are top quality and sold manufacturer direct, saving you money! abc stocks and supports all parts.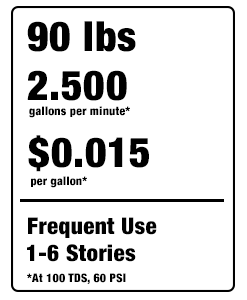 50"H x 20"W x 21"D - 90lbs

Multi-Filter System.

Durable Steel Frame. AC Powered Pump.

All Parts Stocked And Supported By abc!
Filters
WF2CSC-21 -- (1) - 21-inch Carbon/Sediment Filter Cartridge

WF3CRO-40

-- (1) - 40-inch RO Filter Cartridge

WF2CDI-21

-- (1) - 21-inch DI Filter Cartridge
Resources
Replacement Parts
Included With Purchase
SG2 System With Filters

2 Each Inline Pressure Gauge

16" Connection Hose

TDS Meter

Shutoff Valve

Owner's Manual
4 Reviews
Looks awesome when your on the job
Good but parts break easily gfi brackets etc
Overall value long-term
I've used this system more than 5 times, and this is not my first WaterFed system. I found the Manual and Quick Start guide helpful. Using this system is safer for my crew.
Add a Review