Usually ships within one business day
In-Stock - Options from 10' to 60'
Usually ships within one business day
In-Stock - Options from 10' to 60'
Usually ships within one business day
Usually ships within one business day
In-Stock - Options from 10' to 60'
Usually ships within one business day
Usually ships within one business day
Description
Triple Crown SG2 WaterFed® Pure Water Window Cleaning System
The Triple Crown SG2 WaterFed® Cart provides excellent pure water production and is easily maneuverable in close quarters. This AC powered unit produces 2.500 gallons of pure water per minute.
This RO DI WaterFed® System was designed to operate with a range of source water conditions. The core of this pure water cleaning system's filtration is a replaceable RO membrane. The membrane allows the unit to process higher than average TDS and contributes to a low cost per gallon for pure water production. The DI filter can be bypassed for RO only operation in situations where water quality is high enough to produce water with less than 10 TDS. The RO only operation allows those cleaning solid surfaces to produce water with 40 TDS or less from source water without using a DI filter. The unit also features a rapid drain which allows the user to reduce the overall weight of the unit when lifting this pure water window cleaning system into their vehicle at the end of the day.
This WFP System is equipped with a durable powder coated steel frame with 10-inch run flat tires making it very portable. It is easily transferred into and out of a work van by one person. The larger wheels and wide stance allows it to be easily transported over a variety of landscaping materials. The unit comes equipped with an AC powered pump capable of producing up to 2.500 gallons per minute of pure water, but can be run without a pump with sufficient source water pressure. Perfect for frequent use cleaning 1-6 stories. Triple Crown systems are top quality and sold manufacturer direct, saving you money! abc stocks and supports all parts.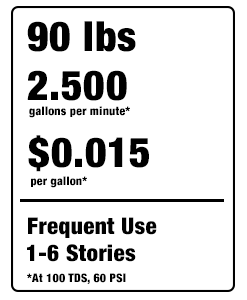 50"H x 20"W x 21"D - 90lbs

Multi-Filter System.

Durable Steel Frame. AC Powered Pump.

All Parts Stocked And Supported By abc!
Filters
WF2CSC-21 -- (1) - 21-inch Carbon/Sediment Filter Cartridge

WF3CRO-40

-- (1) - 40-inch RO Filter Cartridge

WF2CDI-21

-- (1) - 21-inch DI Filter Cartridge
Resources
Replacement Parts
Accessories
Included With Purchase
SG2 System With Filters

2 Each Inline Pressure Gauge

16" Connection Hose

TDS Meter

Shutoff Valve

Owner's Manual
Customer Reviews
4 out of 5 stars
Based on 8 reviews
Brandon Zell Clear View Building Services Inc
25th Apr 2021
Pump for SG2 cart
I originally ordered this cart in November of 2018. It performed very well. We use it frequently running 2 poles over 3 stories. About a year after the pump started making noise. At a year and a half I had to buy a new pump but not the motor. Of course out of warranty. Shortly after that, GFCI plug on the unit stopped working. So now we just plug directly into the motor. One of the wheel bearings is going out as well. I am now two and a half years into this unit and those are the only issues so far. The pump is starring to make noise again, so we will see what happens. But it's a better price than similar systems on the market.
This type of equipment sells itself.
This SG2 really performs whether your are using one or two poles. Very easy to use and load into your truck or van. This type of equipment sells itself. When you start talking about benefits of SG2 WFP system vs using ladders are customers are all ears. Our technicians would rather have a pole in there hand then climbing a ladder and the safety factor is huge.
Juan Carlos D
17th Jan 2020
Very good
Easy to replaced parts plus easy to move around. It's changed my business by doing buildings that have no anchor points.
Mike Moneypenny
24th Aug 2019
SG2 water fed system
Just bought one. Work great for the first job I use it on. I'll repost later after I've used it more
Joel T (Verified Customer)
9th Oct 2018
Looks awesome when your on the job
Good but parts break easily gfi brackets etc
David (Verified Customer)
9th Oct 2018
Overall value long-term
I've used this system more than 5 times, and this is not my first WaterFed system. I found the Manual and Quick Start guide helpful. Using this system is safer for my crew.
Pete - Nu View Window Cleaning - Verified Customer
12th Jan 2018
It Works and It's Worth The Price
I have been cleaning windows for over 25 years now and up until about 2 years ago I had never used a WaterFed system primarily for 2 reasons, First I didn't have any confidence that they would work and 2nd because of their cost I figured it was cost prohibitive. Well about 2 years ago I happened to enter a sweepstakes with ABC Supply and lo and behold I won an SG2 cart. So I said what the heck I won this thing I might as well give it a try. All I can say is that after 2 years of use I am sold on this item. It works great! The water comes out free of any contaminants and doesn't leave any streaking on the windows. I use it primarily on 2 story plus homes and 2 and 3 story office buildings. This has increased my safety factor since I no longer have to go up on my ladders nearly as often as I used to and because I don't have to move the ladders around my time on each job has decreased. I think having the portable water pump is a must since the water goes through 3 different filtration filters and it really helps with the water pressure to apply to and rinse the windows. So to answer my original 2 reasons for not using the WaterFed system yes it works and it works very well , secondly it is definitely worth the price in regards to safety and increased job performance. I would highly recommend the SG2 WaterFed cart.
Kert - Lighthouse Window Cleaning - Verified Customer
22nd Jun 2017
SG2 Cart
It is a great system, creating 100% pure de-ionized water at a pressure for any work necessary. I've used the SG2 less than 5 times so far. It is my first WaterFed system. The manuals and videos were very helpful. Other employees have used it also, and it was very easy to teach them how to use it. This system has completely changed my business as we are picking up business we never could have before and accounts that are very lucrative.
Add a Review
Account
Log in
New Customer
Create an account with us and you'll be able to:
Check out faster
Save multiple shipping addresses
Access your order history
Track new orders
Create Account
Forgot Password
Forgot Password
Fill in your email below to request a new password. An email will be sent to the address below containing a link to verify your email address.